A powerful remote desktop tool for technical support & accessing files: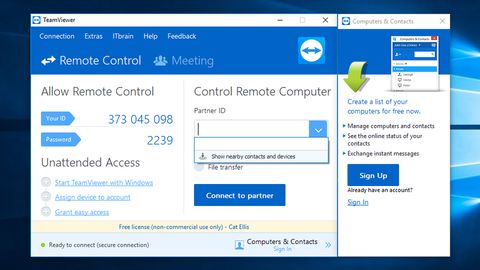 Our Verdict
The most accessible remote control software around, bursting with features that make it stand out from the competition.
For
Simple to set up and use
Desktop and mobile versions
File sharing and video chat
Against
The prospect of connecting to another computer remotely with a view to taking control might sound complicated, but TeamViewer makes things as painless as possible by eliminating the need to tinker with any security or network settings.
TeamViewer
Type: Desktop sharing
Operating system: Windows, Mac, Linux, Chrome OS, iOS, Android, BlackBerry, Windows Phone
Version: 12
There are lots of reasons you might want to take control of another machine with TeamViewer: to offer technical support to a friend or family member if you've found yourself taking the role of tech support, or to use a computer of your own in another room or when you're away from home, for example. If you buy a business, license, you can also use TeamViewer to conduct meetings, give presentations, and hold video calls. What's beautifully refreshing is that in every single case, getting up and running is incredibly easy.There are paid-for remote access tools that work in a similar way, but TeamViewer is instantly appealing thanks to the fact that it's free for personal use (with premium license options for businesses).
User experience
Despite the inherent complexity of remote access, TeamViewer simplifies things to the point that even the technically terrified should be able to use it, and there's phone support available in the unlikely event that you get stuck.
When used for remote control, the remote desktop can be displayed in full screen mode so it's really like sitting in front of that machine and using it. Security is in place so a remote machine can only be accessed when permission is granted, but there's also an unattended access mode.
There's a portable version of TeamViewer that can be run without being installed, and access is even possible through a web browser. If you're struggling with a slow connection that's causing laggy performance, you can adjust various settings to improve performance at the expense of aesthetics – a welcome touch that shows just how much thought and care has gone into creating this superb remote access app.
Check out Team Viewer Video bellow: