A gaming smartphone with super speakers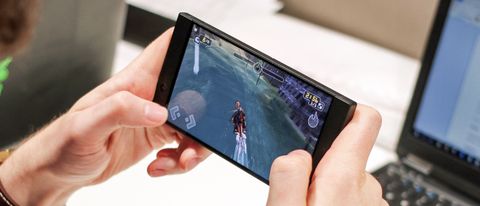 Our Verdict
The Razer Phone is packed full of power and potential, but the stumbling block is its niche appeal. Its design may not blow people away, but the super stereo speakers and gaming-focused display will appeal to some.
For
Excellent speakers

Display tuned for gaming

Plenty of power under the hood
Against
Camera a weak point

Only a handful of games

No headphone jack
The Razer Phone is built for gamers, with high-end specs, silky smooth screen and powerful stereo speakers. But do gamers want a smartphone dedicated to gaming?
With so much competition at the top end of the mobile market, and flagship handsets already offering great screens and a whole lot of power for gaming, the Razer Phone is a bold play from a firm well known for its gaming laptops and peripherals, and which is now hoping its legions of fans will buy into its latest device.
This Android phone is focused on two core elements: the screen and the sound.
Its 5.7-inch display packs the world's first 120Hz refresh rate on a smartphone, and it's flanked by Dolby Atmos-tuned stereo speakers. The result is a handset that boasts some seriously strong credentials when it comes to visuals and audio, and with plenty of power under the hood.
Check out our review of the Razers design and screen below.
Razer Phone price and availability
Launch price: $699.99

Release date: November 2017
Razer Phone specs
Weight: 197g
DimensionS: 158.5 x 77.7 x 8mm
OS: Android 7.1.1
Screen size: 5.7 inches
Resolution: 1440 x 2560
CPU: Snapdragon 835
RAM: 8GB
Storage: 64GB
Battery: 4,000mAh
Rear camera: 12MP + 12MP
Front camera: 8MP
The Razer Phone price is $699,  putting it up against some of the best phones of the market including the Samsung Galaxy S8, iPhone 8, LG V30 and Google Pixel 2.
You can pick it up from Razer's online store in the US,  you'll have to buy it at full price.
The Razer Phone release date was November 17 in a number of countries including the US, UK and Canada.
Razer told us it's currently looking at bringing the phone to Australia, while India has been ruled out and the Middle East is a possibility later along the line.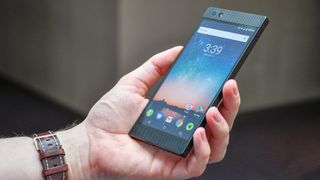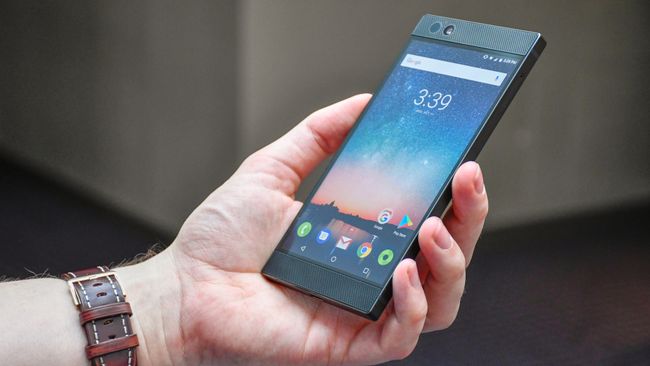 Display
World's first 120Hz smartphone gaming display

5.7-inch LCD IGZO QHD (1440 x 2560)
Razer started with the screen when it came to build the Razer Phone, as it's essential to the gaming experience – and it provides an experience you can't get on any other phone in 2017.
On paper, the 5.7-inch LCD IGZO QHD (1440 x 2560) display protected by Gorilla Glass 3 may not seem like anything special, putting it on a par with many of its rivals in terms of size and resolution; however there's more to this screen than meets the eye.
 Razer has opted for LCD technology over the brighter, more colorful AMOLED tech you'll find in the likes of the Galaxy S8 and Google Pixel 2 XL because it has the ability to deliver higher refresh rates and frame rates. That's ideal, of course, for 3D gaming.
The result is a display which boasts a 120Hz variable refresh rate, and is capable of up to 120fps (frames per second). It means movement on screen is silky smooth – even just scrolling through your Twitter timeline you can appreciate the higher frame rate as it glides effortlessly, and more quickly, beneath your fingers.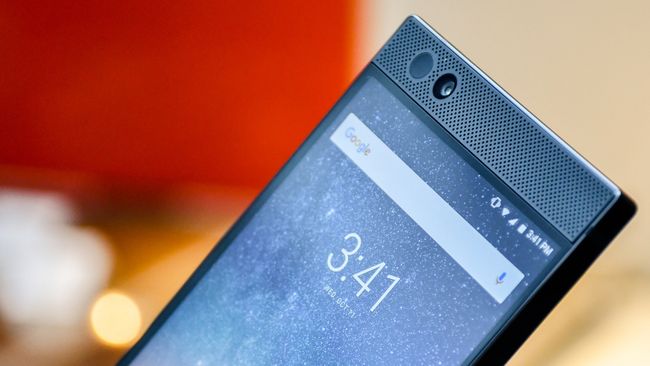 Dive into the settings and you can select the refresh rate you want for the display, with 60Hz, 90hz and 120Hz being your options. Increasing the refresh rate sees scrolling become smoother, and animations (app opening and so on) slicker.
 Flicking between refresh rates and performing the same action (such as scrolling through your Twitter feed) does present a smoother, more satisfying experience at 120Hz, but those without a keen eye on refresh rates will find the difference minimal.
 Of course, the main reason for that fast refresh rate is gaming, and we'll cover that in more detail on the next page of this review.
 Razer fans will likely appreciate what's being offered here, but it's difficult to make a case for why this phone is worth the money for more general users. If feels more like a 'nice to have' device than a game-changer.
Dive into the settings and you can opt to downscale the display resolution to Full HD (1080p), which improves battery life.
However, we found the Razer Phone's battery lasted a full day on a single charge pretty comfortably, so we didn't require this function.
The screen is crisp, clear and bright, which ensures everything looks great, from text to pictures to video.
Design
Square, blocky and a little uninspired

No headphone jack, but audio adapter with built in 24-bit DAC in box
If the design of the Razer Phone looks familiar, that's because the gaming giant purchased startup smartphone maker Nextbit back in January 2017 – igniting rumors that it was planning on launching its own smartphone – and it's used the design of Nextbit's only handset, the Nextbit Robin, here.
The three key visual differences between it and the Razer Phone are the latter's slightly taller, wider build, its new black paint job, and the increased size of the speaker grilles on the front. It's also a lot heavier at 197g, versus the 150g Robin.
All of this means the Razer Phone is square, blocky and, if we're honest, a little uninspired in the looks department – especially when you consider that 2017 has given us the Galaxy S8 and iPhone X.
It's not a bad design, and it's more comfortable to hold landscape then you'd expect with its flat edges and angular corners, but its looks are polarizing.
We met some people during our time with the phone who loved the design, but the majority we spoke to were less enamored with what Razer has done.
Razer Phone gallery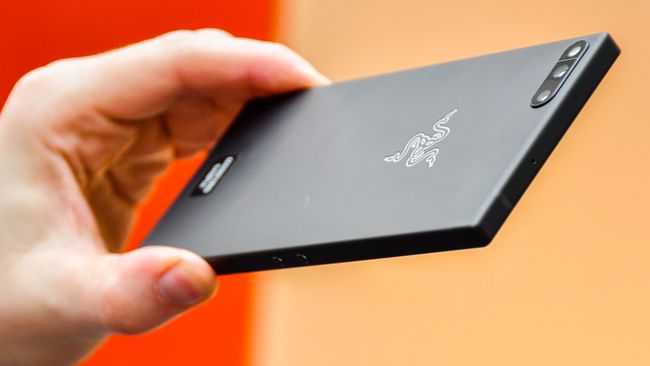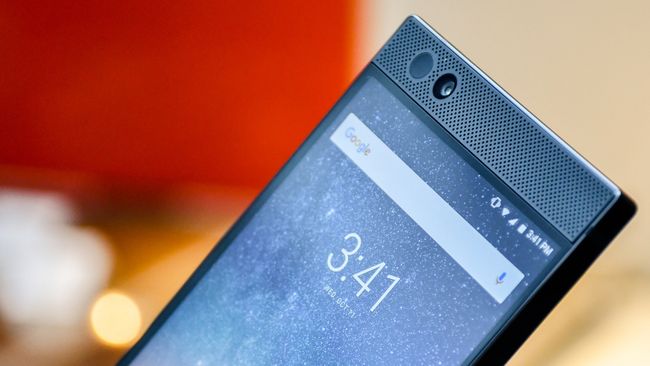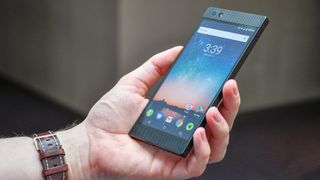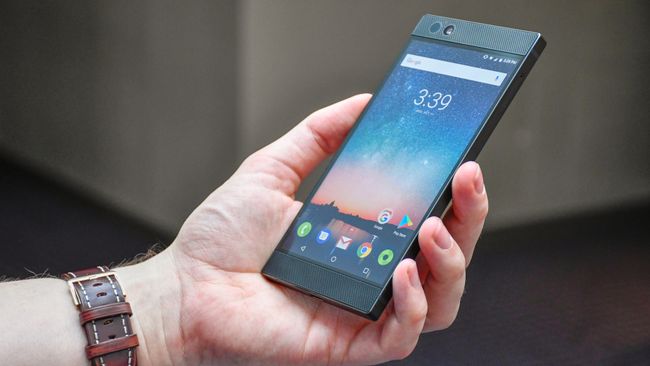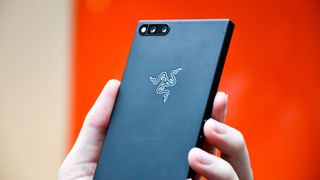 The phone boasts the same finish as other Razer products, in an attempt to win fans of the brand over, and it was designed based on the phone being primarily used in landscape orientation for gaming, which partly explains the larger bezels above and below the display.
 As well as housing a couple of excellent speakers, the bezels provide the perfect place to rest your hands when you're gaming, meaning you cover less of the screen with your mitts, giving you a better view of the action.
 At 8mm thick and with no rounded edges the Razer Phone does feel a little chunky, and it's less comfortable to hold in portrait orientation. Plus, at 197g it's also one of the heavier handsets on the market.
 There's a centralized power/lock key on the right of the handset which also houses the fingerprint scanner, while on the left two small circular buttons provide volume control. A USB-C port resides on the bottom.
There is, however, no headphone jack, although Razor includes an audio adapter with a built-in 24-bit DAC with Dolby Atmos support in box, allowing you to plug in your corded headphones.
That's a potentially big stumbling block for some gamer's, as dedicated gaming headsets generally utilize the 3.5mm headphone jack, and its omission here feels like it could alienate some fans. The adapter is a nice addition, but you'll want to be careful not to lose it.
Round the back a large black and white Razer logo dominates, but there will be a limited number of handsets with a green logo for those who pre-order, or purchase the phone on launch day.
Razer has also used the fanless cooling technology found in its laptops in the phone, which stops the handset heating up too much and prevents hot spots, allowing for a more comfortable gaming experience for longer.
It works too. The phone still gets warm during extended periods of gameplay, but the heat is distributed evenly across the mental unibody, and in our time with the handset it never reached an uncomfortable temperature.
Speakers
The best speakers on a smartphone

Tuned to Dolby Atmos standards and first to be THX-certified
Another important feature of the Razer Phone are the speakers, and we'll get right to it. The dual front-facing speakers on this phone are, hands-down, the best speakers on any smartphone at the moment.
Each speaker has its own amplifier, and they've been tuned to Dolby Atmos standards and are the first smartphone speakers to be THX certified. Together they provide a '3D visualization' of sound, meaning they sound just as good when you're behind the phone as when you're in front of it.
The impressive stereo and immersive qualities make it sound like Razer has packed in more than just the two speakers, and you notice the quality every time you listen to audio on the handset.
From quick YouTube clips and Twitter videos to movies and games, the Razer Phone speakers aren't just loud, they're also crisp and clear. While there is some bass, it's not going to be shaking the floor – this is still a smartphone, not a large sub box.
There's very little distortion even at the highest volume, and you can really appreciate the stereo quality of the sound when holding the phone in landscape.
We put the Razer Phone up against the iPhone 8 Plus and it comfortably won the head-to-head, with richer, clearer and more immersive sound even at full volume.
This phone gives you proper, room-filling sound without distortion, and the iPhone sounded tinny in comparison.
Gaming
Excellent smartphone gaming experience

Game Booster app offers a range of features, but no recording option
Gaming is the Razer Phone's its best feature, and it's a focus Razer will hope is enough of a selling point for its inaugural smartphone.
The Razer Phone launches alongside some big-name games including Shadow gun Legends, Final Fantasy 15, Tekken and Arena of Valor, although only the latter is actually available at the moment, with the others coming in 2018.
It means the Razer Phone feels a little bit empty, like a new games console launching with just a handful of games.
On setting up the Razer Phone for the first time, four games were automatically downloaded and installed for us: Arena of Valor, Gear Club, Titanfall Assault and World of Tanks.
There's no dedicated app or store pushing you towards all the best games to play on your dedicated gaming smartphone, which leaves you fending for yourself if the opening quartet don't take your fancy.
You do still get Google's Play Store, which is full to brimming with games, but there's no indication as to which ones will make the most of the Razer Phone's gaming prowess.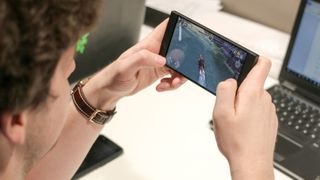 There are already a number of games available on the Play Store that are frame rate unlocked (such as Pokemon Go), and thus can quite happily dabble with the 120Hz screen; there's just no easy way to find them.
Razer's also working with a number of developers to help them adapt their games to run at screen refresh rates that take advantage of the full power of the Razer Phone's GPU.
As well as existing games that have been tweaked slightly to take advantage of the 120Hz display, Razer has worked with Cmune and THX on an exclusive game for its handset, a survival shooter called Ultra Hunt.
However, that won't be available until 2018 either, reinforcing the fact the Razer Phone arrives with the promise of bi- name, 120fps gaming while delivering only a handful of playable titles.
Razer is working with a number of partners, so the library of games should expand in the coming months, but for now there's no treasure trove of glitzy titles to pull in prospective punters.
Find a game to play, though, and the experience is excellent. We played Titan fall Assault, Arena of Valor and Gear Club extensively during our time with the Razer Phone, and the gameplay was slick and the graphics impressively smooth.
Gamers with a keen eye will likely appreciate the improved frame rate offered by the Razer Phone, but for the more casual user gaming on this device doesn't really feel much different to gaming on any other top-end smartphone.
It's worth noting that games are automatically set to 60Hz (lower than the 90Hz default for the operating system), so you'll need to jump into the Game Booster app to up things to 120Hz.
Game Booster allows you to adjust the frame rate on a game-by-game basis, which means your Candy Crush adventures can stay at a less battery-hungry 60Hz, while more graphically intensive titles can take full advantage of the Razer Phone's cutting-edge display.
Load Game Booster up and it'll automatically find the games on your phone and allow you to tinker with individual settings for each, although we found it missed a few off, and added in some apps that certainly weren't games.
You can easily add apps to and remove apps from the list in Game Booster to remedy this, but we'd like to see it be a little smarter.
It's not just refresh rates you can tweak with Game Booster, as it also allows you to customize the CPU speed and screen resolution, and toggle anti-aliasing.
Putting all these settings to max will give you the best gaming experience, but it will also eat into your battery much quicker, so be careful with your implementation.
Something that does appear to be missing from Game Booster is a recording function, allowing players to capture their exploits in-game to either stream live, share with friends or upload to the web at a later date.
This is an option Samsung's Game Tools does provide, along with toggles for locking the navigation keys, blocking notifications when in-game, and capturing screenshots. The Razer Phone would benefit from similar, easy to access controls, but for now it goes without.
Battery life
Large, 4,000mAh battery comfortably lasts a day

120Hz refresh rate significantly drains battery
Razer has squeezed a sizable 4,000mAh battery into its smartphone; it's one of the largest power packs in any phone, and with general usage you'll easily get a full day of use from the handset.
By default the screen refresh rate is set to 90Hz for the general interface (outside of games), which isn't as power hungry as the 120Hz option, and it was at this setting that we were comfortably getting to bed after a day of use with around 15% left in the tank.
Switching the refresh rate down to 60Hz extends the battery life further, with the Razer Phone seeing you through until the early hours without breaking a sweat, and with careful usage it can last a day and half before requiring a trip to the plug.
However, the big talking point is the Razer Phone's ability to offer 120Hz. This is a much more power-hungry mode, and if you keep the Razer Phone set at 120Hz it won't last a day on a single charge.
This is where the Game Booster app comes in handy, as you can set games to run at 120Hz while the rest of the interface can be set to 60Hz or 90Hz to help you make the most of the battery.
We ran our 90-minute Full HD video test on the Razer Phone, with screen brightness on full and accounts syncing in the background over Wi-Fi, and it lost 18% of its battery at a refresh rate of 90Hz.
That's a respectable performance, putting the phone on a par with some rivals, but it's not the best result we've seen, with the LG V30 (lost 13%) and Huawei Mate 10 Pro (9%) performing better.
There's no wireless charging option with the Razer Phone, but it's the first phone to support Qualcomm's Quick Charge 4+ technology, allowing you to go from 0% to 85% in an hour.
And the fast-charging plug is included in the box, meaning there's no additional cost involved if you want to take advantage of a quick top-up.
Camera
Dual 12MP rear cameras, one telephoto, one wide-angle

8MP front camera
The Razer Phone comes with dual 12MP rear cameras, with one a telephoto f/2.4 lens and the other a wide-angle f/1.7 offering, while on the front there's an 8MP snapper.
The telephoto lens is an updated version of the camera found on the Galaxy S7, so there's some strong shooting pedigree at its heart.
Razer has opted for a super-simple camera UI, with no manual or pro mode available. It's very much a point-and-shoot deal, and it's not overly impressive.
Shutter speeds feel slow, and if you opt to enable HDR (which brightens dark areas in photos and improves low-light shots) there's a couple of seconds delay after you hit the capture button while the Razer Phone processes all the information.
For a high-end smartphone with a flagship price tag it's a noticeably inferior offering to its peers. We hope a future software update will improve the performance of the camera app, but for now, if you're looking for a slick camera phone this is not the handset for you.
However, Razer is aware of the shortcomings of its camera, and has confirmed it will look to upgrade the feature with a software update.
Razer CEO, Min-Liang Tan tweeted us to say "we focused on making it a great camera first, and will be releasing the fancy add on features with patches."
There are currently no further details on what these add ons may include, on a timeline on when they're expected to land, but it's worth keeping an eye on.
We'll update this review as soon as the new software arrives, so you know if the upgrades are worth it.
If you have the Razer Phone you can always download a more advanced camera app from Play Store, which will give you more to play with.
 Dual cameras are one of the big flagship features for phones in 2017, and Razer uses its lenses to offer a smooth zoom. Unlike the OnePlus 5, where you tap a button to switch between the two lenses, the Razer Phone just requires a simple screen pinch for you to zoom in and out, swapping between the two.
 You're unlikely to really notice that you're moving between two different cameras, as Razer has worked hard to make the transition as smooth as possible.
 Results from the cameras can be a little hit and miss. Outside in good light the Razer Phone produces high-quality snaps with a good level of detail, although colors tend to look a little muted.
Things are more of a mixed bag when it comes to low-light performance, with the Razer Phone usually struggling for clarity when light is limited, but every now and then it surprised us with the odd striking snap.
The rear cameras on the Razer Phone aren't bad, but considering the excellent snappers on similarly priced rivals it feels like a real weak point here.
Camera sample,

Operating system and interface
Runs Android 7.1.1, with Android 8 Oreo arriving in Q1 2018

Uses Nova Launcher for greater customization options
The Razer Phone runs Android 7.1.1, which isn't the latest version of Google's operating system, but we were told the Android 8 Oreo update will arrive during Q1 of 2018.
It's not stock Android on the phone though, with Razor instead opting to pre-install Nova Launcher on the handset. In general, Nova behaves almost identically to Android, which means there's no learning curve required when you pick up the Razer Phone.
Nova Launcher would normally cost money if you were to download it from the Play Store on another Android device, but it's provided free of charge here, and allows greater customization and the use of themes from Razer's Theme Store.
The Theme Store stocks licensed content, starting with game partners and moving on from there.
There's already a decent selection of free themes available to get you started, and they don't just change app icons and wallpapers, but also notification sounds and more – providing an extensive transformation of the device.
Nova Launcher also provides a range of additional functions in the settings menu, perfect for those who like to fine-tune the operating system of their smartphone.
Some of the more useful features include 'double-tap to wake' and 'lift to wake' the screen to view any notifications you may have without having to reach for the power key, and Night Light, which tints the display amber for a more comfortable reading experience in low light and may make it easier for you to get to sleep after using your phone at night.
Movies and music
We've already covered the Razer Phone's gaming prowess, but its power, screen and audio skills mean it's also well suited for movies and music.
The large QHD display delivers crisp visuals when you're watching films and TV shows, with smooth blur-free motion, although the LCD display means colors aren't as vibrant as on the OLED panels on the likes of the iPhone X, Samsung Galaxy S8 and LG V30.
The speakers, which we've already covered in detail, enhance the experience with excellent audio quality and stereo sound, immersing you in the action on screen.
The Razer Phone's lack of a headphone port will annoy some, but an adapter that plugs into the USB-C port is included in the box, allowing you to connect a traditional pair of cans.
The adapter also features a 24-bit DAC (digital-to-analogue converter), which enhances the audio signal to your headphones for an improved listening experience.
It comes in handy when you fancy a music binge, with tunes sounding great through both headphones and the in-built speakers we talked about earlier in this review.
Performance
Under the hood the Razer Phone packs the latest power, with a Snapdragon 835 chipset and a whopping 8GB of RAM.
We still believe 8GB of RAM is excessive for a smartphone, but Razor claims the additional memory lets you run multiple high-power apps (such as Twitch, YouTube and games) with no lag or slow-down.
We didn't experience any degradation of performance, and the Razer Phone was able to keep multiple games running in the background as we skipped between them in the multitasking menu, which shows the 8GB of RAM does work.
You also get 64GB of internal storage, and there's a microSD card slot allowing you to build on that with memory cards up to 2TB in size. Plenty of space for all your gaming needs then.
Verdict
The Razer Phone is one of the most innovative and interesting flagship smartphones on the market. Its design may not be eye-catching, its camera may be run-of-the-mill and the lack of a headphone jack will irk, but it's the only phone pushing mobile gaming to the forefront.
It's easy to appreciate the excellent audio and smooth gaming experience. The 120Hz refresh-rate screen and dual-amplified stereo speakers are features we'd like to see on more phones, and currently no one does these specific features better than Razer
The gaming brand has a legion of fans, so perhaps this phone will really speak to them – but while its gaming credentials may be applauded it doesn't feel like the definitive answer to mobile gaming we've been waiting for.
There are better all-round devices on the market for a similar price, which can provide a strong gaming experience alongside excellent cameras and general usability. Then there's the fact that the Razer Phone feels a little light on actual games.
There's the promise of more titles fine-tuned for the handset in the coming months, but as it stands it doesn't feel like it works hard enough to push the best titles to your screen.
Who's it for?
There's no question that the Razer Phone is aimed at gamers. However, the question remains whether gamers – who are used to PC and console power, controls and graphics – view mobile gaming in the same light.
The Razer Phone will appeal to enthusiast gamers who appreciate the ability to adjust frame rate, power distribution and resolution on a game-by-game basis, but for a wider audience it's likely to be less appealing.
Should I buy it?
The Razer Phone is a solid smartphone with big gaming potential, and while its potential may not be fully realized just yet, it offers something different in a market where handsets are becoming more and more alike.
If you're looking to part with the sort of money Razer is demanding for its phone, and you want decent camera performance from your phone as well as decent gaming, then you're better off looking elsewhere.
But if you want something a bit different with some unique gaming features, the Razer Phone may be for you.
Samsung Galaxy S8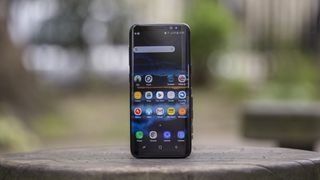 The Samsung Galaxy S8 may be six months older than the Razer Phone, but it packs a whole lot of power, a brilliant screen and a top-notch camera to give you the best all-round smartphone experience.
It's also witnessed a price drop since its launch, so you can pick up the Galaxy S8 for around the same price as the Razer Phone, making it an even more tempting proposition.
Read our in-depth Samsung Galaxy S8 review
Google Pixel 2 XL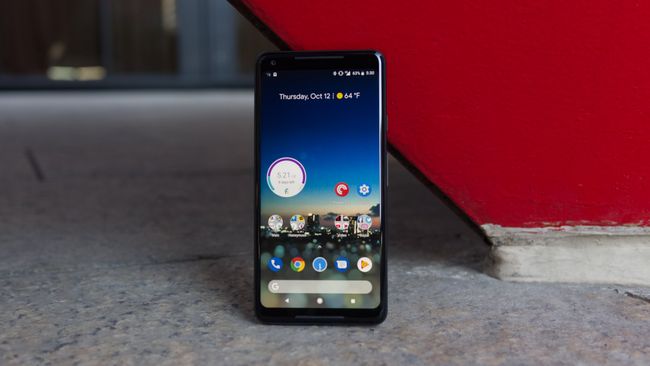 The Google Pixel 2 XL is more expensive than the Razer Phone, but you won't find a better smartphone snapper on the market.
If photography is important when it comes to picking your next high-end smartphone the Pixel 2 XL won't disappoint, plus you get a large 6-inch QHD display, plenty of power under the hood and the stock version of the latest Android operating system.
iPhone X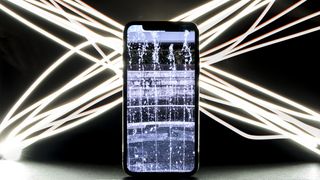 If you have more money than you know what to do with and want a smartphone that'll turn heads, the iPhone X could be the phone for you.
It's almost double the price of the Razer Phone, and runs iOS rather than Android, but the App Store has a wealth of top-notch games to keep you entertained on its 5.8-inch Super AMOLED display.