Dell Computer ahead of its time,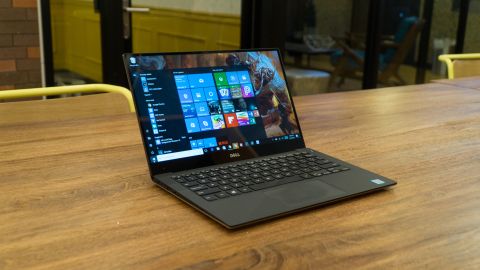 Our Verdict
The Dell XPS 13 is like a tortoise surrounded by hares, taking its time in adopting fresh, new tech to deliver an excellent, modern experience that doesn't leave legacy users behind. Plus, it's just bloody gorgeous.
For
Faster than ever
Same long-lasting battery
SD card slot
Great range of prices
Against
Still poor webcam position
No Windows Hello
 Dell has done it all over again. The latest and greatest Dell XPS 13 recently arrived, and it's frankly already been our favorite laptop for the last two years.
This time coming equipped with the latest, 7th generation () Intel processors behind that same eye-dropping display and punchy keyboard we've come to enjoy typing on – now all within an optional rose gold frame – the new XPS 13 has wowed us all over again.
And, much of that isn't thanks to crazy innovations or fresh additions, but a few key refinements that help the XPS 13 stand out amongst a sea of laptops that are perhaps trying to change a bit too quickly. The XPS 13 is a tortoise surrounded by hares … only it's got a rocket strapped to its back.
Price and availability
Available now through its website and several retailers, Dell begins the bidding for the standard XPS 13 at $799.99 to start. In the US, that gets you a Kaby Lake, dual-core Intel Core i3 processor with Intel HD Graphics 620, 8GB of RAM and 128GB of solid-state storage behind an FHD (1,920 x 1,080 pixels), non-touch InfinityEdge display. (The UK and Australian versions come starting with an Intel Core i5.)
If you want the touchscreen at QHD+ (3,200 x 1,800) resolution – and the two screen features only come as a pair – you'll need to cough up at least $1,299.99 That also nets you a dual-core Intel Core i5 chip, but sadly doesn't up the storage or RAM capacity. Of course, you can choose to upgrade both of those components for extra cash.
Latest news
The latest rendition of the Dell XPS 13 has been out for months now, and since its introduction, we've seen it undergo a complete transformation, mainly as a result of the ever-evolving Windows 10. After releasing the feature-packed Creators Update in April, Microsoft revealed the Windows 10 Fall Creators Update at Build 2017.
Since then, Microsoft has come out to say that the Fall Creators Update will release with marked improvements to its tools including a more comprehensive Narrator. The feature's "device learning mode," for instance, will soon be equipped with the power to tell a user what a particular command on the keyboard does without actually executing it.
In the meantime, if you've yet to shell out for the best-in-class Dell XPS 13, you may be interested to hear that we recently had the chance to review the 15.6-inch Dell XPS 15. The main difference being that the XPS 15 is obviously bigger, but with the caveat of a 4K screen and an Nvidia GeForce GTX 1050 discrete graphics card.
Dell XPS 13 configuration bellow:
CPU: 2.7GHz Intel Core i7-7500U (dual-core, 4MB cache, up to 3.5GHz)
Graphics: Intel HD Graphics 620
RAM: 8GB LPDDR3 (1,866MHz)
Screen: 13.3-inch QHD+ (3,200 x 1,800) InfinityEdge touch display
Storage: 256GB PCIe SSD
Ports: 1 x USB 3.0, 1 x USB 3.0 w/PowerShare, 1 x USB-C (Thunderbolt 3), SD card reader, headset jack
Connectivity: Killer 1535 802.11ac (2.4 & 5GHz); Bluetooth 4.1
Camera: 720p widescreen HD webcam with dual array digital microphones
Weight: 2.9 pounds (1.29kg)
Size: 11.98 x 7.88 x 0.33 – 0.6 inches (W x D x H) (304 x 200 x 9 – 15mm)
Design
 Frankly, there isn't a ton to be said of the XPS 13's design this time around, as very little, if anything, has changed. You still have the 13.3-inch display as sharp as QHD+ (3,200 x 1,800 pixels) with optional touch controls squeezed inside an 11-inch-wide frame.
 And, you still have the gorgeous, machined aluminum lid and base that beset a comfy, carbon fiber keyboard deck coated in soft-touch paint. Only this time, the lid and base come in rose gold – the salmon shade that's all the rage in tech products these days – as well as the traditional silver option.
 The machine somehow measures even thinner than the previous generation, though only by a hair: 0.33 inches (9mm) at its thinnest point to 0.6 inches (15mm) at its thickest. For those keeping score, the previous model came in at two hundredths of an inch thicker at the nose.
 Dell has also reduced the weight of its leading laptop, but by such a small degree it would be impossible to notice: from 2.93 pounds (1.32kg) to now just 2.9 pounds (1.29kg) even for the touchscreen model. Short of a major breakthrough in the materials used to construct the XPS 13, we're likely looking at the thinnest and lightest Ultrabook from Dell for a while. (Please, prove us wrong.)
All told, we're still smitten by the XPS 13 design, and frankly we're happy it hasn't changed much, because it doesn't have to. One small request: if Dell could at least center that bottom bezel-oriented webcam like it has on the new , that would be clutch.
More than the MacBook Pro?
 During our time with the new XPS 13, we realized an important point: this laptop can match and even surpass the new, entry-level part-for-part. For 100 bucks less than Apple's latest laptop, the XPS 13 offers a sharper screen, a stronger processor and the same amount of RAM and storage.
Oh, and this guy has a full-size SD card slot.
The MacBook Pro? You'll get one more Thunderbolt 3 port – one of which needs to be used for charging – and little else for its starting price. On paper, it seems like the XPS 13 will give you a better time editing photos and video than its archnemesis. Well played, Dell.
Check out the Video for Dell 13 (Kaby Lake)