The first affordable Max-Q gaming laptop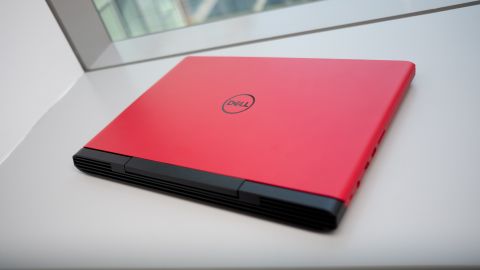 Our Early Verdict
Thinner and more powerful than ever, the Dell Inspiron 15 7000 Gaming mixes a blend of capabilities and affordability.
For
Nvidia GTX 1060 graphics
Quick-charge battery
Well configured for the price
Against
Reduced battery capacity
Some odd design choices
The introduction of Max-Q gaming laptops fulfilled the promise of uncompromising graphics performance with thin designs and quiet noise profiles, but we wouldn't call them cheap. Thankfully, the Dell Inspiron 15 7000 Gaming laptop is shaping up to be the most affordable Max-Q machine yet, starting at $999.99 and that's why it ranks highly in our best laptop list.
For your money, you're getting quite a capable 15-inch gaming laptop equipped with quad-core Intel Core processors and an Nvidia GTX 1060 graphics chip. What's more, the thinner design and new features of this affordable Max-Q design make it well worth looking at.
Design
The original Inspiron Gaming laptop had a strikingly unique design and it's mostly carried over. This Max-Q variant still features rounded sides with slanted front and rear edges for a distinctly uniform and retro look.
What has changed is that Dell has decided to swap out the soft touch coating on the laptop with a simpler plastic veneer that's less prone to smudges from greasy fingerprints. The geometric grates on the rear of the laptop have also sadly been replaced by more traditional cooling vents, but this might have been done in service to the cooling the Nvidia GTX 1060 requires.
At 0.98-inches thick the new Inspiron 15 7000 Gaming is also a literal fraction of an inch thinner than its outgoing 1-inch tall predecessor.
Features
One of our chief complaints about the original Inspiron Gaming Laptop was that it was limited to a Nvidia GTX 1050 Ti that only proved to be semi-capable for Full HD gaming. With the Nvidia GTX 1060 in tow, users should be able to play more games at Ultra quality settings and achieve higher frame rates overall as we've seen from the Origin EVO15-S and Razer Blade.
 Priced at $999.99, this gaming laptop also undercuts some of the most affordable gaming laptops thus far including the $1,399.99 Gigabyte Sabre Pro and the $1,399.99 Acer Predator Helios 300.
 The Dell Inspiron 15 7000 Gaming has plenty more in tow with 7th generation Intel Core i5 or i7 quad-core processors, up to a 512GB SSD and 16GB of RAM. Another new upgrade with this year's model is a quick-charge battery that can recharge up to 80% of its capacity in an hour. Unfortunately, the battery is also significantly lower in capacity at 56Whrs than its predecessor, with the older model coming with a 74Whr capacity.
Other notable goodies include a spill-resistant keyboard (which is optionally backlit), and a fingerprint reader which is built into the power button for secure logins (via Windows) as we saw on the new Dell Inspiron 13 7000.
When the Dell Inspiron 15 7000 Gaming laptop arrives on September 12 it will also come with 4K models going for $1,449.99
Early verdict
The Dell Inspiron 15 7000 Gaming looks like a solid laptop for new or casual gamers, as well as hardcore ones looking for an affordable machine. We've been told the $999.99 model will be decently spec with an Nvidia GTX 1060 and at least an 128GB SSD, which would make this one of the best deals for a capable gaming machine.
That said, the smaller battery capacity worries us, so we'll run this gaming laptop through our full battery of tests to see if its promises are too good to be true and whether it's worthy of its Max-Q moniker.
Dell Inspiron Video Review