Mobile gaming monster not very mobile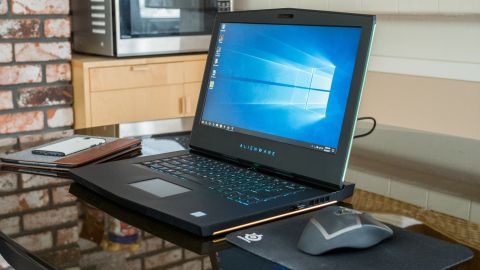 Our Verdict
The Alienware 15 R3 is an incremental update over the previous generation but offers the power and refinement that gamers on the go will love. It's a big and heavy beast but, if you don't mind the weight, it's a potent laptop that can do it all.
For
Impeccable build quality and design
Massively powerful
Excellent cooling
Against
Expensive
Big and heavy for 15-inches
Average battery life
Over the years, the 15-inch gaming laptop has become the sweet spot for gamers, and the Alienware 15 has been a top choice for its design and powerful specs. The 15-inch size is big enough to enjoy games on a built-in display while not being too cumbersome to carry around.
With the latest third-generation model, the Alienware 15 R3 offers incremental bumps in specs with relatively unchanged design. New for this year's model are Intel's latest Kaby Lake processors and Nvidia's new graphics chips that are as powerful as their desktop counterparts.
But today, the Alienware 15 R3 is up against stiff competition from the likes of Origin with its compact and the even slimmer . While the Alienware 15 R3 can't match the size and weight of its competitors, it can more than keep pace in terms of pure performance.
Spec Sheet
 Alienware 15 R3 configuration sent to for review:
CPU: 2.8GHz Intel Core i7-7700HQ (quad-core, 6MB Cache, up to 3.8GHz)
Graphics: Nvidia GeForce GTX 1070 (8GB GDDR5); Intel Graphics 630
RAM: 16GB DDR4 (2,400MHz, 32GB max)
Screen: 15.6-inch Full HD (1,920 x 1,080) IPS, 120Hz, Anti-Glare, G-SYNC enabled
Storage: 512GB M.2 SATA III SSD, 1TB HDD (7,200 RPM)
Ports: 2 x USB 3.0 ports, 1 x USB-C port, 1 x USB-C Thunderbolt 3 port, HDMI 2.0, Mini-DisplayPort, Ethernet, Graphics Amplifier port, headphone jack, microphone jack
Connectivity: Killer Wireless-AC1435 IEEE 802.11ac 2×2 Wi-Fi, Gigabit Ethernet, Bluetooth 4.1
Camera: Front-facing 1,280 x 720 webcam with Windows Hello
Weight: 7.69 pounds (3.49kg)
Size: 1 x 15.3 x 12 inches (25.4 x 389 x 305 mm; H x W x D)
Price and availability
The Alienware 15 R3 is available now with a starting price of $1,100.00  but can be configured up to a whopping $2,050.00, with options for more storage and RAM that will further bump up the price. In fact, configured with triple storage drives (including two 1TB SSDs and a 1TB HDD) and 32GB of memory, the Alienware 15 R3 came out to a ridiculous $3,500.00.
The Alienware 15 R3 is by no means a cheap laptop but its configurability lets you choose the options that you value the most. However, the processor choices are limited to the latest Intel Kaby Lake Core i5-7300HQ or Core i7-7700HQ. For graphics, you can choose between the NVIDIA GeForce GTX 1050, 1060 or 1070.
Design
The Alienware 15 R3 is a striking laptop, thanks to its imposing size and RGB LEDs that are just about everywhere on the laptop. Seriously though, just about everything on this laptop lights up from the Alienware text, logo and even the trackpad.
While the Alienware 15 R3 is unabashedly a gaming laptop it doesn't beat you over the head with superfluous fins, red accents or overly aggressive design. We found the laptop handsome with its metal, plastic and rubber construction.
Although the Alienware 15 R3 sports a 15.6-inch screen, its size is more fit for a 17-inch with beefy bezels around the display. The bottom display bezel is particularly large and houses the light-up Alienware logo. Compared to the Origin EVO15-S, which also has a 15.6-inch screen, the Alienware looks like a laptop from the early aughts in terms of size and weight.
Speaking of weight, you'll want to hit the gym if you plan on taking the Alienware 15 R3 anywhere. The laptop weighs in at a whopping 7.69 lbs (3.49kg) and its massive power brick adds a couple of more pounds in your backpack.
The pay off for that big size and weight is great thermal performance and a spacious, 10-keyless keyboard. While some may miss having a numberpad, the spacious keyboard makes typing a pleasure, and there are macro keys for gaming which can be configured in software.
You can configure the laptop's slew of RGB LEDs via the AlienFX software. There are presets that look great but you can customize every LED to your liking to match your peripherals or even team colors.
Looking at the top of the display, you'll notice the dual cameras for Windows Hello support and Tobii eye tracking. Windows Hello works great for quickly unlocking the laptop without ever having to type a password. Tobii eye tracking works fine as well, which we'll get into more in the performance section.
Not-so-mobile gaming monster
Our top-of-the-line Alienware 15 R3 is, unsurprisingly, a beast of a performer. The laptop flew through every benchmark we threw at it without any thermal throttling. The large size and efficient fans of the Alienware made sure the laptop could run at 100% all the time.
For those concerned about noise, the Alienware 15 R3 gets loud at full load but doesn't exhibit the high pitch wail of a thinner laptop, like the Origin EVO15-S. It's not quiet by any means, but the Alienware is far from the loudest gaming laptop we've heard.
Benchmarks
Here's how the Alienware 15 R3 performed in our suite of benchmark tests:
3DMark Sky Diver: 31,089; Fire Strike: 13,616; Time Spy: 5,285
Cinebench CPU: 734 points; Graphics: 97 fps
GeekBench 4 Single-core: 4,792; Multi-core: 15,004
PCMark 8 (Home Test): 4,113 points
PCMark 8 Battery Life: 3 hours and 13 minutes
Battery Life (techradar movie test): 4 hours and 4 minutes
Deus Ex: Mankind Divided (1080p, Ultra): 16 fps; (1080p, Low): 120 fps
GTA V (1080p, Ultra): 56 fps; (1080p, Low): 165 fps
While the Origin EVO15-S we tested came configured with the same i7-7700HQ processor, our Alienware 15 R3 came with a more powerful NVIDIA GTX 1070. Graphics performance between the two laptops is readily apparent, with the Alienware pump out higher graphics benchmark scores everywhere.
The NVIDIA GTX 1070 is a beast of a GPU and played every game without problem on the laptop's Full-HD screen. Our Alienware 15 R3 was configured with a 120Hz display with G-Sync support, making every game look buttery smooth. We were seriously impressed with both the graphics card and display on the Alienware.
The only game that brought the Alienware 15 R3 to its knees was Deux Ex: Mankind Divided running with Ultra settings. The laptop managed a slideshow-like 16 frames per second (fps).
Dial back the graphics to high, and the laptop maintains an acceptable 50 fps on average.
As for Windows Hello and the Tobii eye tracking, both work well but with lower accuracy than other laptops. We ran into a problem where the Alienware 15 R3 could only recognize our face at a very specific distance; too far or too close and the camera wouldn't register our face. Contrast that to other laptops like the recognized faces immediately from various angles and distances
Tobii eye tracking works well for games like The Division but ends up being somewhat distracting. Thankfully, you can turn it off.
Battery life
Battery life for the Alienware 15 R3 is average for a gaming laptop with around three to four hours of use. The laptop managed 3 hours and 13 minutes in our PCMark 8 battery life test and survived 4 hours and 4 minutes looping Guardians of the Galaxy at half brightness. You'll be able to do some work at the local cafe, but you'll want to bring your charger whenever you leave home.
One thing to note is that the Alienware's plethora of LEDs result in a hit to battery life, so you'll want to disable them in the AlienFX software if you want to stretch your longevity. Sure, people won't see how much of a pro gamer you are without the light show, but that's the price you have to pay for a little more battery life.
Battery display
While the Alienware 15 R3's display may only offer 1,920 x 1,080 resolution, it's more than enough for gaming on the go. We never feel like we need higher resolution to enjoy gaming on the 15.6-inch display. Alienware offers a 3,840 x 2,160 (UHD) display in its highest price configuration in the US and as a £200 option in the UK, but we feel that resolution is overkill for gaming on the go.
Where the display really shines in with its 120Hz refresh rate and G-SYNC support. By doubling the refresh rate of a typical laptop display, games look buttery smooth, which helps with games that require quick reaction times. The display made playing Dirt Rally a pleasure, and the powerful GTX 1070 never dropped a frame – even with settings maxed out.
You should note that the Alienware 15 R3 comes standard with a Full HD, 60Hz panel but you can opt for the 120Hz panel for an additional $150 (£120), which we think is worth it.
Last but not least, the Alienware 15 R3 only comes with anti-glare, non-touch displays, making it possible to use the display outdoors. The optional 120Hz display also gets up to 400 nits, so it's no problem using the laptop near a window or outside.
We liked
The Alienware 15 R3 is a beast of a laptop in terms of performance and physicality. We love how solid the laptop feels and its understated design, for a gaming laptop anyway. The size may be an issue for those who hope to take their laptops on the go frequently, but for those who are usually stationary, the Alienware 15 R3 is an excellent choice.
For gaming, the spacious keyboard is excellent and features a row of configurable macro keys. Alienware's lighting software is intimidating to use at first but allows for a ton of customization.
The best part is that the Alienware 15 R3 just flies through any game. The Nvidia GTX 1070 is massively powerful, especially for playing games at 1080p. The 120Hz and G-Sync capable display is also a highlight of the system.
There's no getting around the fact that the Alienware 15 R3 is a brick compared to slimmer laptops, like the Razer Blade (2016) and Origin EVO15-S. The Alienware is not a laptop you can take on the go without serious consideration (and frequent gym visits). The 15 R3 is not a laptop for the road warrior.
Battery life is about average for a laptop of this segment, but you shouldn't stray far from an outlet, as the battery drains quickly even when doing light tasks like web browsing and word processing.
In terms of value, the Alienware 15 R3 is quite expensive, especially in the more powerful configurations. We think the middle configurations hit a sweet spot for price versus performance. Companies like MSI offer thin and light gaming notebooks but for a price. The Alienware sacrifices portability for some cost savings but the excellent thermal performance will please discerning gamers.
Final verdict
The Alienware 15 R3 is not a gaming laptop for everyone. Its big and heavy size and expensive, top-of-the-line configurations will turn a lot of gamers away. But, for those who stay stationary most of the time, the 15 R3 is an excellent laptop.
Gaming performance is impressive, and we enjoy the Alienware's tank-like build. Thermal performance is excellent, allowing the Alienware 15 R3 to run at 100% for extended periods without losing a beat. We were equally impressed by the optional 120Hz Full-HD display that made games look buttery smooth.
If you like the design of the Alienware 15 R3 and don't mind its bulk, you're going to be very happy with its performance, display and build quality.